Who is This Book For?
Chief Executives, Marketing and Communications Directors and Managers, Communications Managers, Conference Organisers working in or on behalf of associations or other membership bodies who appreciate that actively engaging with a higher proportion of their membership is essential if the organisation is to thrive.
Who Wrote Remotely Engaging?
Paul Cook and Martin Shepherdly wrote this book in part out of frustration but really because they want to help organisations make the most of their conference content.
Why This Book?
For most associations, conferences are their biggest investment and they are throwing much of the value of their events away by NOT capturing the content. Often the cost of doing so, fades into insignificance compared to the value of extending the reach of their event and the membership retention and acquisition capabilities that building a library of specialist knowledge makes possible.
Together, they have successfully deigned and produced numerous conferences that have broken out of the confines of the conference centre; that have extended the event's reach over distance and time to create valuable knowledge assets for the organising association or body. In doing so, they have learnt many lessons about what worked and didn't work when it comes to capturing attention and actively engaging with a remote audience.
The purpose of the book is to condense that experience into a guide that will enable organisations to avoid some of the fundamental mistakes that are easily made when embarking on web broadcasting a conference or seminar. The intention is to help associations to shortcut the process of becoming 'remotely engaging', so that they too can unlock the full value of their conference content.
What People Are Saying About the Book
"Having held our own events with remote participants and speakers, this book is a great guide for associations wanting to extend the reach of their events. The easy to follow tips even allow a novice to get it right first time and avoid the pitfalls."
Mandy Torrens – Senior Exhibition Director, IBTM Global Events
"Part of preparing for any event is in asking the right questions. Martin Shepherdly and Paul Cook cram a lot into a small space here, covering the big questions from working out the percentage of members you want to attend an event, through to positioning the lights correctly and how to choose and brief a presenter. Best of all, the authors' use of practical real-world examples demonstrates that they are not armchair theorists – this is hard won knowledge from the mouths of industry professionals."
Nadine Dereza and Ian Hawkins – Co-Authors, Insider Secrets of Public Speaking
"Really clear and easy to follow. I encourage event planners the world over to read this straight talking, inspiring book and reach those audiences other events can't."
Marie-Claire Andrews – CEO, ShowGizmo Ltd
Looking for Help Producing Your Hybrid Event?
We specialise in helping you produce successful hybrid events. Events that engage all your delegates, whether they are there in person, or virtual attendees.
Get in touch and let's start a conversation.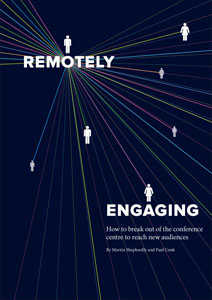 The "How to…" guide for event planners who want to engage their remote delegates. By Paul Cook & Martin Shepherdly.